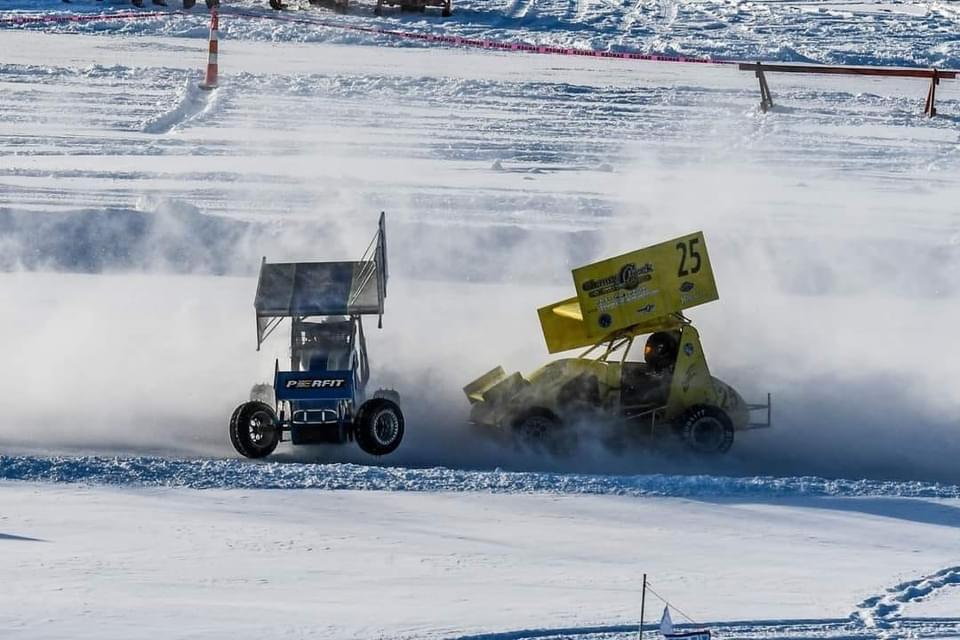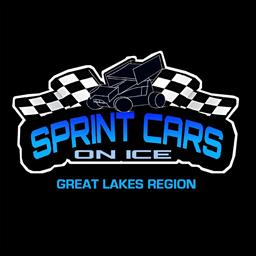 1/14/2023
Sprint Cars on Ice
---
2023 ICE RACING SEASON ON THIN ICE
Merrill, MI – As many of you have already guessed, there's been a question mark on our upcoming scheduled ice races. The Lake Missauke date of February 4th and the Houghton Lake dates of February 18th and 25th are cancelled. We are still hoping to travel to Barbeau, MI for the 2nd Annual St Mary's River Roar on March 4th at Cozy Corners. However the shipping channel is still open till tonight and we will have to see what Mother Nature provides us with.
Ice racing has been done for years all over the country. Sprint cars racing on ice has been a well kept secret that started in New Hampshire in the 60's and 70's. Local racers and families would get together on the local ponds and race when conditions were right. The local racers started local clubs for the sprint racing on ice and rules were made. Such things as plexiglass in front of the driver, windshield wiper, chains, studs, etc! Once the ice was thick enough (12-14" minimum) to race on, they would meet every Sunday until the ice was unsafe.
The past two years, we have been laying the foundation to start ice racing in Michigan. We have a lot of challenges that are different from the evolution in NH. For starters, in NH they built up a group of racers and cars for ice racing over a 50 year period. Starting from scratch here in Michigan, there weren't sprint cars sitting around to race on ice and a lot of racers hesitant about racing in the cold.. I had to convince a few of our dirt drivers to bring their cars out so we could experiment. We have learned a lot on the few exhibition races we have had and we have definitely proven that we can take a dirt sprint car, change the wheels and race on the ice.
The bigger challenge in Michigan is where to race and getting permission to race. So we have been working with the local Chamber of Commerce's at lakes that historically have winter activities scheduled. We need to find venues that we can gain access to the ice, that has parking, areas for fans and able to receive a permit from the DNR. Needless to say, there is a tremendous amount of planning and coordination that takes place to schedule these specific dates.
After all the excitement, planning, and the anticipation, if the weather is mild and we don't have sufficient ice, we can't race. Realistically there are only 5 weekends that we can potentially race in the winter, it's difficult to just move it to the next weekend. There are other festivals scheduled and or earlier festivals that have moved their dates out already.
In one of our planning meetings, I was asked by someone if I had a back up plan if we don't have enough ice. The first thing that popped out of my mouth was, "We can race on dirt!!! " I really knew what they was asking and I didn't mean any disrespect, but there's not a lot of back up plans for racing on the ice if there's no ice. We have rain dates in the summer, so I guess in the winter we could have….thin ice dates???
The fan support for the ice racing has been overwhelming and we truly appreciate the excitement and buzz from everyone. Sprint Cars on Ice is exciting for us as well and the drivers that have helped us learn have had fun doing it. Unfortunately we have to make the best decision we can on moving forward with an event. We never want to put our fans at risk and we surely aren't going to put a racer at risk on the ice.
Hopefully this gives everyone a little idea of the challenges in front of us and why we can't just wait till the day of a race to cancel. Thank you to everyone that helps us and supports what we do. We will continue to work on races in the future, weather permitting of course!
---
Article Credit: Barry M. Marlow
Submitted By: Barry Marlow
Article Media
Back to News